In 2022, it's become easier than ever before to order your favourite wine with the touch of a button via top alcohol-delivery apps in USA, India, UK, and Australia.
The 10 Best Alcohol Delivery Apps of 2023
Most Popular: EnglishWineCentre
Best Overall: Drizly
Best Takeout Dinner and Drinks: DoorDash
Best for Grocery and Alcohol: Instacart
Best Local: Minibar
Best for Mixers: Swill
Best for Craft Beer: Craftshack
Best for Wine Lovers: Winc
Best for Aperitifs: Haus
Best for Craft Cocktails: Cocktail Courier
Looking to refill your stash of liquor, beer, or wine last-minute but just don't feel like leaving your house. Post Covid19, it's challenging to go out and stand in a queue for anything. Pick your phone, and order liquor online browsing your best liquor delivery apps. Always opt for no-contact delivery is safe still in 2021. If you agreeing here then ordering alcohol from the delivery app is the perfect option for you!
Amazon and the Alibaba-backed Big Basket have now been granted permission to sell alcohol to customers in few cities in India USA is already delivering online alcohol / liquor in almost all 50 states. This update comes almost a month after the government relaxed some of the limitations imposed by lockdown 3.0, including allowing home delivery of alcohol.
Top 10 App for Online Liquor Delivery in USA, India, UK, Australia 2023
Here are the best on-demand alcohol delivery apps that you must check out this weekend:
English Wine Center – Drink & Shop Online
You are fond of having classy drinks from all over the world but, you are also a lazy lad. You like to store a variety of rich drinks at your place but don't like to go to a wine shop. You are one of those who like to order drinks online. If you are looking for a drinks shop online, Englishwinecentre is your final destination. They have a vast variety of rich drinks. The best part is that they do not have shipping charges in the UK. They have good ranking in delivering the products on time. You can also enjoy many offers and discounts on your favorite drinks. This store is full of renowned brands. You are just a click away!
Drizly – A US Based Alcohol Delivery App
Drizly, a Massachusetts-based startup, provides beer, wine, and liquor distribution through its mobile app. Drizly is an excellent alcohol-delivery software choice with an easy-to-use setup and a smooth interface for getting booze to your door in under an hour. New York, Boston, Chicago, and Los Angeles are among the more than 100 major markets where it is currently available. Drizly also offers recipes for your favourite drinks or if you're looking for something new. Drizly is available in major cities such as New York City, Providence, LA, Boston, and more.
How it works: If you need your alcohol quickly, Drizzly is the app for you. You can have your favourite wine, beer, or liquor shipped in under an hour with Drizly. It works by having you shop at various liquor stores in your city. Then you simply place your order and wait for it to arrive. You can also pick it up if you don't want to wait for it to be shipped.
Boxed – New York, California and Massachusetts
Boxed, an online wholesaler, is the response to your alcohol-delivery prayers if you need to stock up for a dinner party, happy hour, or another boozy event. In two days or less, Boxed will deliver daily essentials in bulk (snacks, fresh groceries, pet food, and more) to your door. Boxed also delivers alcohol in three states: California, New York, and Massachusetts, with free shipping on orders over $49.
What's the real kicker? Boxed allows you to buy drinks with all of your party supplies, such as cups, chips, and Gatorade (for the morning after, of course) in one simple transaction. That's a multitasking alcohol distribution app, right there.
HipBar – Alcohol Delivery Apps in India
HipBar claims to be India's first legal alcohol home delivery service, having launched in 2015. For the time being, it is only operational in Cuttack and Kolkata, and it is still in the process of compiling a list of liquor stores in these two cities. The app lists all of the liquor stores in these areas and allows you to choose one and buy things from it, after which it delivers for a fee. Premium brands including Johnnie Walker, Smirnoff, The Singleton, Ketel One Vodka, Baileys, Ciroc, Captain Morgan, Glenkinchie, and Black Dog, among others are available. It's free to download from Google Play and the Apple App Store.
Minibar Alcohol Delivery – New York-Based Alcohol Delivery App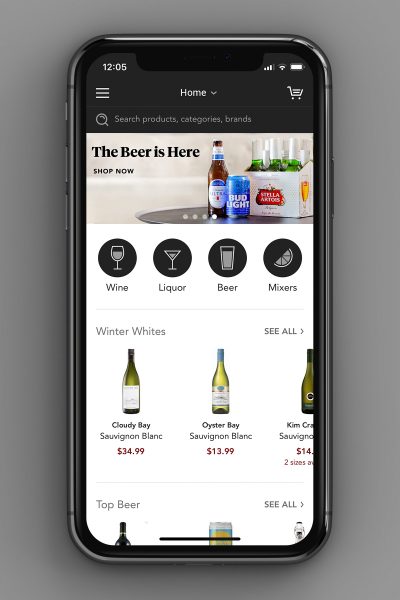 Since they deliver in an hour or less, Minibar Delivery is ideal for a last-minute party or for those who want to drink before going out. Minibars can be found in a variety of cities around the world, including New York City, Chicago, Denver, Miami, and Palm Beach. Minibar has a number of gift sets available during the holidays.
Saucey: Alcohol Delivery Near You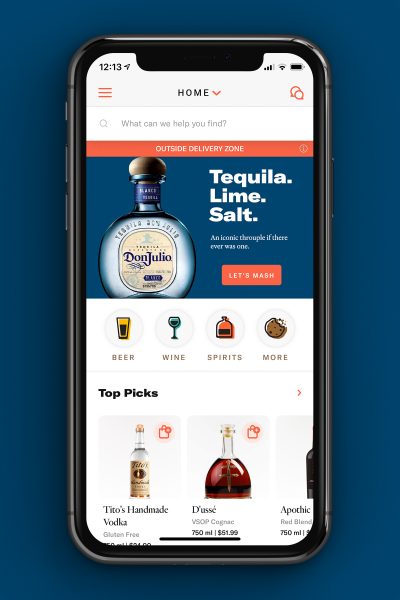 Saucey is the app for residents of Chicago and a few California cities, including Los Angeles, San Francisco, and San Diego. Saucey also provides delivery in under an hour, and delivery is free on your first order if you sign up for a newsletter. Saucey has over 10,000 items, including pretzels, chocolates, and candies, among others. Saucey carries tobacco products in addition to wine, beer, and liquor.
Saucey, that is based in Los Angeles, is the ideal alcohol distribution app for special occasions or date nights. It comes with a variety of deals and enjoyable extras, such as an hour of private bartending. More than 10,000 items, including alcohol, snacks, chocolates, and candies, are available via the app. Along with alcohol, it also sells tobacco products. The app currently delivers to Los Angeles, San Diego, San Francisco, and Chicago, and if you sign up for their email, you can get free delivery on your first order. When it comes to this app, there is also no provision for a minimum order.
Flaviar – Liquor Delivery App in the USA
The whiskey range at Flaviar is well-known. If you're a whiskey connoisseur searching for a new brand to try or a new flavour to try, this is the app for you. Flaviar has over 10,000 bottles available in a variety of flavours. Flaviar not only provides you with the best bourbon, but it also provides you with information about the cocktail, sends trivia, provides distillery information, and much more. Flaviar will deliver alcohol from a nearby liquor or wine store within an hour if you reside in one of 23 U.S. markets. It functions similarly to ordering food via the app or website; simply go to the "drinks" tab and check for your preferred beverage.
Flaviar, which has locations in a variety of major American cities, provides an on-demand range of beer, wine, and liquor. They guarantee that your order will be delivered in 30 minutes or less! Allow them to do so because it can take you that long to get to the liquor store. Flaviar also provides 2-day delivery in California and New York.
Winc – Online Alcohol Delivery App
Do you enjoy wine but are unsure which bottle to purchase when you go to the store? Winc guides you through the decision-making process by asking you a series of questions in order to build a flavour profile. After that, they choose four wines for you and ship them to you. Winc provides a monthly subscription service that sends you four wines based on your preferences and reviews from previous Winc purchases. You can also personalize your delivery by including some of your favourite products.
Winc began in 2012 as Club W, a forum for millennials to find and purchase good wine at a reasonable price. However, the company soon found itself up against stiff competition from other online wine clubs and specialty stores, so it decided to start producing its own wine to gain a competitive advantage. The organization employed seven vintners in the summer of 2015. WKND, a sparkling wine, was the team's first choice. Winc also owns and manufactures all of the products offered on the website. Around one million glasses are shipped each month, and ten of the company's most famous wines are also sold in stores and restaurants.
Xander Oxman and Geoff McFarlane formed Winc in 2012 because they shared the idea that wine should be more accessible: easier to obtain and enjoy. They teamed up with winemaker and sommelier Brian Smith to create a customised wine club, which has since expanded into Winc, a California winery that offers an online subscription experience and sells its wines at select retailers and restaurants around the country.
Postmates – Fastest Growing Alcohol Delivery App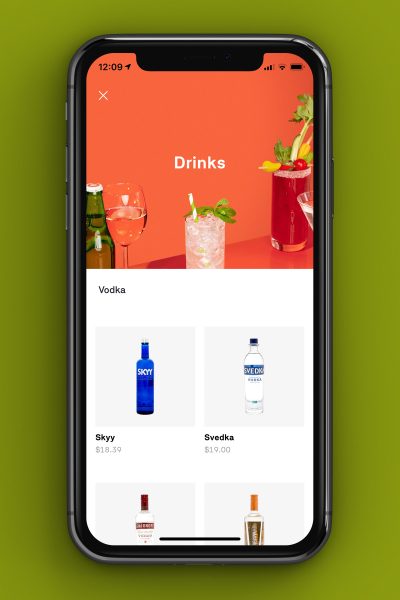 Postmates is great for delivering food from your favorite restaurants, but did you know they can deliver booze too? In select markets, Postmates will bring you beer, wine and spirits in under an hour. Now you can pair your favorite drink or beer with your takeout.
Postmates is the world's largest and most trusted on-demand alcohol or liquor delivery and pickup mobile app. Postmates is the food delivery, grocery delivery, and whatever-you-might-think-of delivery service that can carry what you want to your door from anywhere. Order from the best food delivery app with over 600,000 restaurants and shops, many of which are only available on Postmates, and we're constantly adding more. Simply enter your address, search for anything you want, add it to your list, and have it delivered via Postmate.
Top 10 Online Alcohol Delivery Apps in Australia 2022
Australians have been stranded in lockdown, frantically Googling "alcohol close me" in the hopes of finding a distribution app or service. They quickly learn that alcohol distribution is a real thing, and a wonderful one at that. Indeed, most alcohol distribution apps and services were gaining traction long before the pandemic accelerated their development. They're probably going to have to hire more people just to keep up with demand now. And to all of those who work there, we congratulate you!
Tipple – Alcohal Delivery App In Australia
Tipple, which delivers to 120 suburbs across Melbourne and Australia, has everything you're looking for in a booze delivery service. Enter your address, pick from over 500 items, and leave the rest to them. Using the Tipple app to order your alcohol to make a simple task even easier.
Delivers to: Sydney and Melbourne
Delivery hours for Sydney: Mon-Sun 12PM-11PM
App available on: Apple Store and Google Play
Jimmy Brings
Jimmy brings the booze, and he does so in just 30 minutes! This alcohol distribution service, which serves a range of major areas, goes above and beyond in terms of convenience. Both the website and the alcohol distribution app could not be more user-friendly. All that's left to do now is browse, click (or tap), and wait for your drinks to arrive in about a half-hour.
Delivers to: Sydney, Melbourne, Brisbane, Canberra, Sunshine Coast, Adelaide, Perth, Gold Coast
Delivery hours for Sydney: Mon-Sat 11:30AM-11:30PM, Sun 11:30AM- 10:30PM
App available on: Apple Store and Google Play
Dan Murphys
As it adapts to evolving protocols, Dan Murphys, one of Australia's most important hubs for all things booze, now provides contactless distribution. If you live in a metro area, place your order during specific hours via Delivery Now and expect it to arrive in two hours or less. Owing to high demand, people in rural areas would have to wait even longer. We recommend making a large list before placing your order, regardless of where you live. Pick-ups are also available in-store.
Delivers to: select areas in states all across Australia
Delivery Now hours for Sydney: Mon-Sun 9AM-6PM
App available on: Apple Store and Google Play
BWS Alcohol Delivery App in Australia
When you Google "alcohol near me," BWS is likely to come up first, and for good reason: the company has over 1300 locations across Australia. The company provides a fast same-day alcohol delivery service, and the BWS alcohol, wine, and beer delivery app allows you to monitor your order in real time. If you spend over AU$100, they'll waive the $10 shipping charge. You can also save money by purchasing your alcohol in a supermarket. Folks, it doesn't get any easier than this.
Delivers to: select areas in states all across Australia
Store hours for Sydney: Mon-Fri 9AM-9PM, Sat 8AM-5PM, Sun 11AM-5PM
App available on: Apple Store and Google Play
Shorty's Liquor
Shorty's Liquor is a place where passion reigns supreme, with a large variety of high-quality spirits, wine, and booze. The company specialises in corporate activities such as office parties and business meetings, and its hours of service have recently expanded to meet increased demand. Customers in Sydney have a variety of delivery choices, including same-day delivery to the CBD.
Delivers to: 92% of Australia, with full-service delivery available in Sydney only
Delivery hours for Sydney (currently extended): Mon-Sun 11AM-11PM
App available on: no app
Future, Demand Revenue of Online Liquor Business in USA, UK, Australia
During the lockdown, online alcohol sales skyrocketed as bars closed, leaving retail as the sole source of alcoholic drinks for customers. To stop shopping in supermarkets, many customers used online alcohol/grocery delivery or click-and-collect services for the first time. Nearly half of those who bought alcohol online in the last year said they did so to prevent in-person shopping because of worries about the coronavirus.
Although online alcohol sales grew unexpectedly, online alcohol retailers must concentrate on keeping customers, as they would return to brick-and-mortar stores once the virus has passed.
The Future of Online Liquor Delivery in India
India's alcohol beverages industry was worth nearly $27.2 billion in 2018, according to latest estimates from London-based research firm IWSR Drinks Market Analysis. The global pandemic and ensuing lockdown hit it hard, as it did most companies. Although the government introduced certain regulations to ensure social distance, many small businesses and shops closed, this did not mean that demand for alcohol decreased.
When the lockdown was lifted, hundreds of people began queuing up outside liquor stores in several cities, in violation of social distancing rules, prompting police to use baton charges to disperse the crowds and enforce social distancing protocols. As a result, there has been an increasing surge of opposition to allowing liquor sales to be conducted online in order for social distancing norms to operate smoothly and safely. So, where does online liquor distribution stand in India right now?
US forecast to become biggest online alcohol market
The size of the online alcohol channel is projected to rise by 42 percent in 2020, according to IWSR Drinks Market Analysis' Global E-commerce Strategic Report.
Australia, Brazil, China, France, Germany, Italy, Japan, Spain, the United Kingdom, and the United States were among the ten core markets studied, accounting for 98 percent of total alcohol e-commerce volume. The overall volume of alcohol e-commerce in these ten markets increased by 11% in 2019.
Mexico, Colombia, Argentina, the Netherlands, Israel, Nigeria, Kenya, South Africa, Singapore, and the Philippines were among the ten emerging markets for e-commerce alcohol examined in the study.
By the end of next year, the United States is expected to surpass China as the world's largest online alcohol market. Previously underdeveloped, the channel's growth rate in the United States has now increased by several years.
According to the IWSR, total alcohol e-commerce volume in the United States will rise six-fold between 2019 and 2024, nearly doubling China. However, according to the IWSR, this increase will come from a low base, representing just 1% of off-trade retail alcohol volume in the United States in 2019.
According to the IWSR, e-commerce will account for 7% of total off-trade alcohol in the United States by 2024, compared to 6% in China.
The Online Opportunity for Alcohol Sales in 2022
According to Nielsen, overall alcohol consumption growth in the United States is declining, owing in part to a more fragmented sector. Consumers nowadays have access to a wealth of knowledge, purchasing options, and items to choose from. This makes it more difficult for major alcohol brands to stay ahead in the retail market than ever before.
Grocery retailers will be the leaders of the online alcohol market business
Alcohol is typically purchased alongside groceries at supermarkets or mass merchandisers. Kroger, Amazon Fresh, and Walmart+ will become the leading players in the online alcohol business, with Drizly and other same-day delivery services used only on rare occasions. Nearly half of the online alcohol buyers purchased from a retail website or app, compared to a third who ordered from an instant delivery service (eg, Drizly, Minibar).