Video making apps like TikTok have become a new trend in the entertainment world in 2020 – 2021. These applications have millions of users from all over the world. If I talk about here TikTok only then it has more than 800 Millions download worldwide. Below I'll mention more stats that will help you to make your mind to make and launch Video making app like Tiktok. Not only user downloaded this app in an overwhelmed way but also they spend hours on TikTok watching videos and creating own content. No doubt app like TikTok has provided many creative features to make their video interesting.
Quick Stats for Video Making Apps Like TikTok
689 million TikTok users internationally (monthly) (official stats)
600 million Douyin users in China (daily) (official stats)
100 million TikTok users in the US (monthly) (official stats)
100 million TikTok users in Europe, with 17 million in the UK, 11 million in France, and 11 million in Germany (official stats)
6 billion lifetime downloads of TikTok on iOS App Store and Google Play as of December 2020 (Sensor Tower)
TikTok 2020 downloads estimated at between 850 million and 987 million, excluding Chinese third-party downloads (Apptopia/Sensor Tower)
TikTok global penetration estimated at 18% of global internet users aged 16-64 (GlobalWebIndex)
TikTok 2020 revenue estimated at $1 billion (Reuters)
TikTok valued at $50 billion (Reuters)
Proportion of global internet users who use TikTok
Year
Proportion of TikTok users (16-64)
2018
5%
2019
11%
2020
18%
TikTok users by country, August 2020 estimates
Country
Users, millions
US
65.9
Indonesia
22.2
Russia
16.4
Japan
12.6
France
9.3
Germany
9.1
UK
8.5
Italy
8.3
Spain
7.5
Netherlands
3.8
South Korea
3.3
Australia
2.4
Norway
1
Best Technology to Develop Video Making App Like TikTok in 2021
When creating an video making app like TikTok, it's important to think about the most suited technology. The app should not lag and keep loading. So we have analysed the best tech stack for developing a video making apps like TikTok.
Here we have found some tech stack clues that Tiktok is using in Apps.
Tech Stack Behind Video Making App App TikTok
Swift for iOS app development
Kotlin for Android app development
Cloud architecture powered by Amazon Web Services and Azure
Real-Time Analytics: Azure Stream Analytics, Spark Streaming, Apache Flink
Cloud Environment: AWS
Database: MailChimp Integration, Postgres, Cassandra, HBase, MongoDB
Universal Operating System: Debian
For emails: Mandrill
For Database Management: Datastax
For Powerful programming: GWT
Payments: Paypal and Braintree, e-Wallet, Stripe
Phone, Voice & SMS Verification: Twilio, Nexmo
Push Notifications: Push.io, Twilio
Content Deliver Networks (CDSs): In order to serve user experience, one requires using highly scalable CDN services in order stream media securely.
Video/audio Transcoding: In this process, media files needs to be transcoded in several of media format so to make them supportable to all of the major devices and browsers. For this, either open source software like FFMPEG or third-party solution like Amazon elastic transcoder can be used.
Media Server Configuration: Server requires to be configured to support all of the major devices and browsers. Configuration of HTTPS, RTMP & HTTP is required.
Player configuration: needs to be done as both desktop & mobile server quality based content on user internet speed.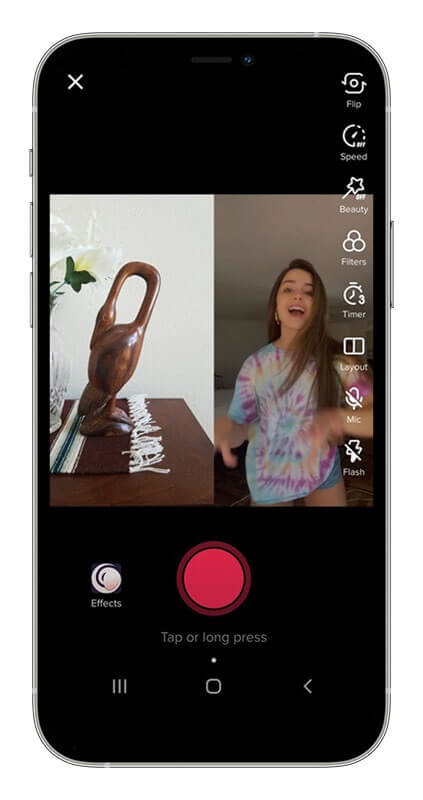 Must Have Features in Video Making App TikTok
In-built music library
What happens to be a bang on by the iOS and Android developers is the in-built music library without using any third-party editor.
There is a long list of filters to choose from, AR effects, editing tools, animations, and stickers. The user chooses the song for lip-syncing, dance, or acts with the music before starting the recording.
If you want to capture something right away, the background music can be added later on.
QR code scanner. Users can subscribe to other music video app users by scanning a unique QR code.
Duets and reactions
Duets let the user appear on the same screen with any person they want, whether it is a celebrity, their friends or any random person.
If you like someone's video a lot, there is an option of adding a touch to it by creating your own side-by-side video.
Reactions are quite similar to duets but they help in recording a video while watching a clip. You can change the shape and size of the reaction window and move it across the screen
Geolocation.
Using geolocation, the app displays active bloggers nearby, who create short videos and broadcast streams.
Filters & effects
TikTok offers adding many filters and effects to the video. So, it's necessary to add such a feature to your future app. As a result, you can attract more users by offering them unique filters.
Video editing
Users should have the capability to edit the video on the app. There can be some basic options like flipping, speeding up the video, and more. However, it's also possible to add an opportunity to turn on the 'beauty' mode. It makes the users' skin more smooth.
Hearts & commenting
Similar to Instagram, TikTok provides an opportunity to like the video and comment it on. The users can also look through the liked posts on the specific tab.
Sharing
To gain more users, you can offer sharing options. It stands for the ability to share their publications on other social media like Facebook, Twitter, etc. Additionally, TikTok offers to connect the user's profile to other social networks.
Real-Time Analytics
With real-time analytics, TikTokers can check out various data regarding their comments and likes, and view a graph showing live broadcasters and viewers.
AI-Powered Recommendations
Your app should constantly learn about your users through their activity, preferences, and interests. It's the only way it can show them videos that are relevant to them. If a user dislikes cat videos and your app consistently shows him or her cat videos, the user is more likely to lose interest. Right algorithms should be in place for the learning process.
Notifications
To keep users posted, it's necessary to add a push notification function. You need to inform the users about comments on their videos, likes, or any other updates. Usually, notifications are implemented via Google Cloud Messaging (Android) or Apple Push Notification Service (iOS).
Minimize the Cognitive Load
Cognitive load refers to the total amount of brainpower required to use the app. The brain has a limited amount of processing power.
And when an app gives too much information all at once, it is overwhelming as the user tend to uninstall the app. So, make sure to minimize the cognitive load.
Admin panel
Admin panel offers multiple functions like user management (e.g. edit, delete, or block users). Additionally, it can assist in counting posts of a particular user, providing data about new users, and more.
Right Development & Marketing Approach To Make & Launch The Best Video Making App Like TikTok
We'll show you how to transform your video-making app idea into a video editing software like TikTok in the stages below.
Step 1: Conduct market research.
To develop a concept for a video making app like TikTok that includes music videos, you must first conduct research and learn more about your target demographic. As a result, you'll have a better understanding of market dynamics, how customers engage with the audience, key players, and emerging trends. Then you must verify your initial assumptions and alter your project to meet the company's goals.
However, the most important aspect of which necessitates a deep grasp is your target audience. The first step toward achieving your goal is to learn more about your target audience. For this, you should look into:
Make A Demographic Report and Targetted Audiance
Before investing hugely in video maker apps like TikTok, you must learn the typical age of your users, their location, the types of devices they use, and their financial status. It would be fascinating to learn how frequently they have reliable internet connectivity.
Behavioral patterns While each app is unique, there are a few themes that you can use to your future app. Users' desire to download something is dwindling, their patience for poor loading times is gradually dwindling, they have a low tolerance for lack of security, they place a high value on app usability, and so on.
We advocate establishing a buyer persona, a clear portrayal of your ideal users, to help you create a better product that responds to their wants and needs.
Step 2: Decide on a monetization strategy.
It's time to choose your business plan for one of the greatest TikTok competitors once you know who your target users are. We've listed many monetization possibilities for your video editing music app, such as TikTok, below.
Fundraising.
Fundraising, which is the practice of collecting money as donations from individuals and corporations, can help you attract funding at the start of your project. Fundraising is one of the premium earning opportunities for TikTok as well. The app was just backed with $3 billion by wealthy investors.
Purchases are made within the app.
TikTok allows users to donate real money to live broadcasters by purchasing coins in the app. During their live streams, followers exchange cash for gifts and bestow them on others. Coins are sold in bundles of 100 to 10,000, with prices ranging from 99 cents to $99.99. The 100 coin bundle is the most popular among users, according to Sensor Tower statistics, followed by the $4.99 500 coin package. For your next app, you can apply the same monetization technique.
Another alternative for monetization video making apps is advertising, which covers numerous sorts of in-app advertising, such as:
CPC stands for Cost Per Click.
Advertisers are paid each time a user interacts with their app's adverts. The price per mille. Advertisers are charged for every 1,000 impressions of their ad within the mobile app by the app's owner.
The price of a single action. Advertisers only pay for clicks that result in a specific action, such as downloading an app, filling out a form, registering for a website, or signing up for a newsletter.
Let's get started on the app development process now that you've determined your future business plan.
Step 3: Hire a mobile app development company.
With the target audience research and business model in hand, you need to contact the development team and start the project discovery phase.
The Discovery Phase of a software project entails business analysis and requirements elicitation, as well as technology stack selection, cost estimation, and project planning.
We normally do the following activities during the Discovery(Inception) Phase, which may vary depending on requirements:
Define the project's scope, the future software's primary features, and the company's top priorities.
Create an app development workflow that takes the monetization plan into account.
Determine the app's key features and user roles.
Create an app concept for the future.
The team will next prioritise the app's functionality, set project milestones, and construct the project's minimum viable product (MVP).
Step 4: Create a Minimum Viable Product (MVP) for a TikTok alternative.
The development of video making an app like TikTok is a actually difficult and time taking task. As a result, rather of developing a fully comprehensive and expensive app, we suggest launching a TikTok counterpart as an MVP (minimum viable product). This way, you can see how your TikTok alternative is received by users and use their input to develop the project.
Step 5: Obtain a free estimate and timeline for your TikTok-like app.
Step 6: Launch & Grow Your App
The most efficient techniques to make TikTok equivalents as popular as the original app are listed below.
Optimization for the App Store (ASO).
Application marketplaces continue to be the leading source of app discovery, with over 561 million downloads every day. App marketplaces like Google Play and App Store might help you attract new users to your app. However, in order to boost your video making app like TikTok search ratings on the app store, you must optimize it.
For bringing a considerable number of high-quality traffic to TikTok rivals, use the following application marketplace optimization tips:
Adding relevant keywords in the title tag
Posting a mix of eye-catching screenshots
Creating a recognizable icon
Writing an engaging description
Step 7: Organic User Acquisition on Mobile.
You can retarget visitors from organic channels such as your website and social media profiles to the application marketplace's page to enhance user acquisition in TikTok alternatives.
You can use the following to accomplish this:
Banner Add that are clever. Visitors to your mobile website will be directed to your mobile application or a marketplace page using these ads.
Content marketing is a term that refers to the process of For this method, you'll need to generate high-quality material on popular themes among your target audience, such as infographics, blog articles, or videos.
PPC. You may increase instals of your TikTok alternative by 150 percent by executing sponsored ads on social media, PPC campaigns using Google Adwords, and cross-promotions with partner applications. You can use a variety of adverts and calls to action to nurture potential consumers from awareness through application download.
Influence Marketing. Influencer marketing is a form of social media marketing involving endorsements and product placement from influencers, people and organizations who have a purported expert level of knowledge or social influence in their field
To Make an Video Maker App Like TikTok Development Team with Below Roles
Project manager. The project manager's primary responsibility is to ensure that the app development is completed on time. It necessitates the management of work processes by the entire team: developers, designers, and Q&A specialists.
App developers for iOs or Android. Developers of iOS and Android apps. For the project, you'll require a number of developers with various specialisations. Don't even consider hiring a single app developer to design an app for you. And, keeping Android in mind, nearly 90% of TikTok downloads are made on Android smartphones.
UI/UX designer. Designer of user interfaces and user experiences (UI/UX). Your software must provide a positive user experience, which necessitates the hiring of a designer. The designer will design your app's layout, which will include menus, navigation, tabs, and features, among other things.
Q&A manager. You'll need a technical specialist to evaluate your app before it's released to ensure it's great. Before you publish your app, app developers should correct any bugs or flaws in its operation.
Marketing specialist. Creating an app is one thing, but making it popular is an art. Launching the app should be followed by marketing activities: online and offline. A quick tip: make your app visible before the actual release. 
Additionally, you should consider having in your team business consultant, brand manager, ASO specialist, content creators. 
How Much Does it Cost to Create Video Making App Like Tiktok?
Unfortunately, a generic question like this does not have a generic answer. Now, app development is a time-consuming process that involves a lot of elements such as team size, deadline, features, and more in order to set a budget.
While we've highlighted a few features, you may always customize your app to meet your specific needs. Aftermarket research pivoting is a viable option that should be examined as well. As a result, we recommend contacting any mobile app development company to get an estimation.
Takeaways Points To Launch Video Making App
TikTok Like apps is getting increasingly popular among the general public. In order to make your mobile app profitable, you can launch your own video-making social media app like TikTok.
Using a professional mobile development team to define your project goals, functional and non-functional criteria, you may turn your company idea into an app.
Instead of creating a similar app like TikTok, think of something to launch with mix features for TikTok and more interesting and funny that customers will enjoy. The main reason for this is that the app is already so well-known around the world that competing with it is impossible.
All the Best For Your Project
Maybe you Interested to Know About Some Best Video Making Apps Like TikTok Worldwide
Dubsmash
Clash
Triller
Funimate
Byte
Funimate
Lomotif
Cheez
Vigo Video
KWAI
Likee
Firework
VideoShow
Video Star
MuStar
Snapchat
Chingari
Zoomerang
Instagram Reels